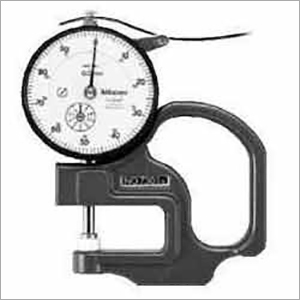 Material Thickness Testing
Product Code : 07
Product Description
Having keen market understanding and vast experience in this field, we are engaged in offering Material Thickness Testing services. The test is done to measure the material thickness of virtually any material such as metals, plastics, glass, epoxies and ceramics. We help our clients to determine material thickness and to measure the thickness of coatings and linings. Material Thickness Testing services are offered in our laboratories, field locations and customer premises. We offer these services at pocket friendly rates.
Features:

Accurate calibration
Timely execution
Under the guidance of experts

Further Details:

Coating thickness is an important variable that plays a role in product quality, process control, and cost control. Measurement of film thickness can be done with many different instruments. Understanding the equipment that is available for film thickness measurement and how to use it is useful to every coating operation.
The issues that determine what method is best for a given coating measurement include the type of coating, the substrate material, the thickness range of the coating, the size and shape of the part, and the cost of the equipment. Commonly used measuring techniques for cured organic films include nondestructive dry film methods such as magnetic, eddy current, ultrasonic, or micrometer measurement and also destructive dry film methods such as cross-sectioning or gravimetric (mass) measurement. Methods are also available for powder and liquid coatings to measure the film before it is cured.
We are an internationally recognized service provider for the testing of plating, coating, thickness of different materials. These services are rendered by us paying meticulous attention to minutest details and hence are in sync with ISO and other specifications.


We are one of the highly trusted company that is Govt. Approved and has a NABL accredited testing house. We offer these testing services for the following:

Nickel Plating
Chrome Plating
Zinc Plating.
Contact Us
1-E/18, G.F., Jhandewalen Extn., New Delhi, Delhi, 110055, India
Phone :+919901294462